Next workshop: November 17th, 2023 
–Join us from anywhere in the world!–
–Course meets the qualifications for 7 hours of continuing education credit for LMFT's, LCSW's, LPCC's and LEP's as required by the California Board of Behavioral Sciences —
---
Couples Therapy & The Enneagram Workshop
***Whether you are newer to the Enneagram or have been an avid student for decades, you will learn how to use the Enneagram system with developmental methods to effectively help your couples***
Join leading expert Michelle Joy, MFT for an interactive and educational workshop designed to take your knowledge of The Enneagram to a deeper level in your work with couples. This unique and powerful workshop combines developmental based methods with the Enneagram to help couples transform their relationship in areas they didn't think was possible – a unique approach that Michelle calls "The Developmental Enneagram for Couples®."
Each Enneagram type leads the couple to do a "dance" together, causing them to get stuck repeating the same habits over and over. When you have a map of understanding in front of you, you can guide your couples down the path of growth, one that they are not able to see themselves.
"What a wonderful course! I was so impressed with Michelle's skills as an Enneagram teacher/presenter and as a therapist. Absolutely one of the top Enneagram courses I have ever taken!" ~Karen Karvonen
Different interventions work for different people, and integrating the Enneagram system into your couples' work is a powerful way to discern what interventions to use. When you know someone's Enneagram type, you can be about 75% faster at revealing blind spots and appropriate course of action. It establishes rapport more quickly, and lets your couples know that you understand them.
Via teaching, videos, handouts, case studies, and small & large group discussion, you will: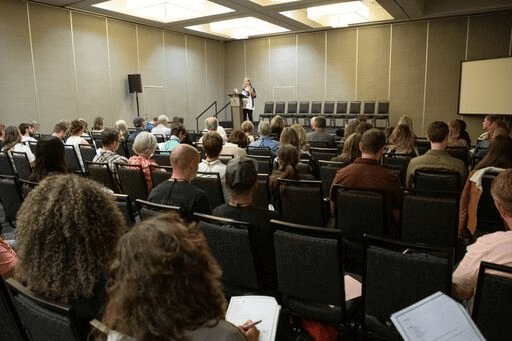 –Discover the prominent defense mechanisms used by each Enneagram type, and ways to navigate them in couples' therapy
–Understand how each Enneagram type's strategy colors and influences the type of growth needed for each individual, and how to guide each person out of their blind spots.
–Explore barriers that each type brings to conflict resolution and emotional intimacy, and powerful developmental methods to help the couple grow and develop.
–Learn proven exercises to help couples connect, improve communication, & facilitate rapid conflict resolution.
–Learn how to effectively change deeply engrained communication patterns for each Enneagram Type using Michelle's unqiue approach she calls, "The Developmental Enneagram for Couples®"
— Understand how each type tries to get their needs met within the relationship, unwittingly creating communication traps they are trying to avoid, and what to help them do instead.
"This is the sort of stuff that you want all couples to know. Michelle's synthesis is the best application of the Enneagram to intimate relationships that I am aware of." ~Rezzan Huseyin, The Practical Enneagram Podcaster
Learn specific and targeted interventions
Note from Michelle: If you feel lost during some of your couples' sessions, this workshop will help you tremendously.  For instance, even if you know what will help the couple, then how do you actually make that happen for each Enneagram Type? How does one facilitate more vulnerability for the 8's?  How about helping the 7's stay in the present moment when their partner is talking about something "negative"?  Developmental methods are the answer. I get feedback all the time that no one teaches the Enneagram and couples' relationships like I do.  My approach is truly unique because the proven developmental methods that I blend in naturally guide each individual toward higher levels of health within their Enneagram Type.
"Michelle Joy's "Couples and the Enneagram" course provided me with extremely valuable tools to utilize when working with couples. Combining developmental concepts with practical application, this course increased both my competence and confidence with using the Enneagram with couples.  Michelle's expertise as a therapist and as an Enneagram practitioner shine through in her excellent teaching and her gentle presence.  I highly recommend this fabulous course! ~Mary Wright, Certified Enneagram Coach
Prerequisite: 
Please have at least a basic understanding of the Enneagram types.  You may listen to my downloadable audio here.
DETAILS: 
Date:  Friday, November 17th, 2023
Time: 9 AM to 5:00 PM PST
Location: Zoom (join from anywhere in the world)
Cost: $217
REGISTRATION: Complete registration form below:
---
"Michelles workshop is practical and interesting for clinicians or anyone interested in learning more about couples work with the Enneagram! The interventions were very helpful in terms of tools that can be used right away with clients in my practice." Maya Anderson, MFT
"Michelle's Couples & The Enneagram concepts are interesting and very useful approaches that are not common knowledge. Her methods for relationships are clear, deep, practical and to the point." ~Jack Labanauskas, Enneagram Monthly Magazine
THE INSTRUCTOR:
Michelle Joy, MFT is a licensed marriage family therapist, a certified Enneagram Teacher, and founder of her approach, "The Developmental Enneagram for Couples®".  A pioneer and leading expert specializing in combining the Enneagram with developmental methods, Michelle offers workshops and trainings for couples' therapists, workshops and 1:1 sessions for couples.
CE INFORMATION:
Michelle Joy, MFT (Provider #65866) is approved by the California association of marriage and family therapists to sponsor continuing education for LMFT's, LCSW's, LPCC's and LEP's. Michelle Joy, MFT maintains responsibility for the program and all its content.
Target Audience: This course is designed for mental health professionals who would like to learn the Enneagram and how to implement the system in couples work.

Cost: $217 without CE, or $227 with 7 CE

Registration fee is nonrefundable, but you may forward to a future training by Michelle.

Accommodations: To request accommodations for special needs, please email the Program Administrator at [email protected]

Grievances: To obtain the grievance policy or report a grievance please email [email protected] or call 650-485-1504

Certificates: Course Completion certificates will be awarded at the end of the course in exchange for a completed evaluation form and possibly a post test.

Course meets the qualifications for 7 hours of continuing education credit for LMFT's, LCSW's, LPCC's and LEP's as required by the California Board of Behavioral Sciences (pending re-approval)